The default vacation handler is now gnarwl and may be configured via Horde or the command line. 
It is possible to set your vacation message via Horde, the online mail client.  To access the vacation settings page, either expand the mail tab in the menu on the left and then click on "Vacation" from the dropdown list, OR go to the following location https://mail.math.ias.edu/vacation, and then enter your login credentials.  
After finding the vacation settings page, the first thing to do is set a start and end date for your vacation to be displayed in the message.  Please note that all fields, even the hour and minute fields, must be filled in for both the start and end date.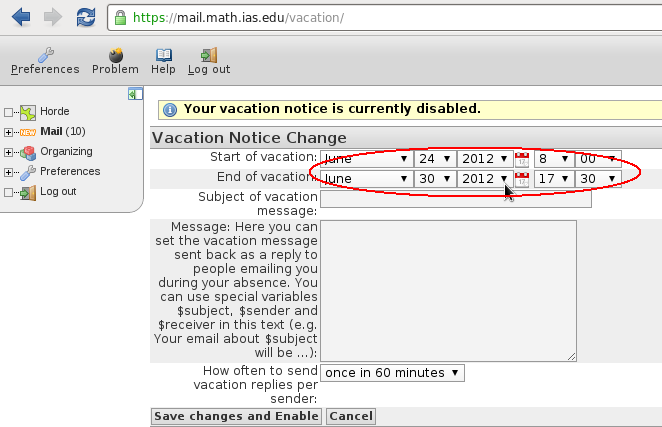 Next, you can fill in the header and the body of the email to determine what message will be displayed for those who try to contact you.  You can also adjust the frequency with which individuals are sent your vacation message.  This will limit the amount of times your vacation message is sent as a reply to those who contact you.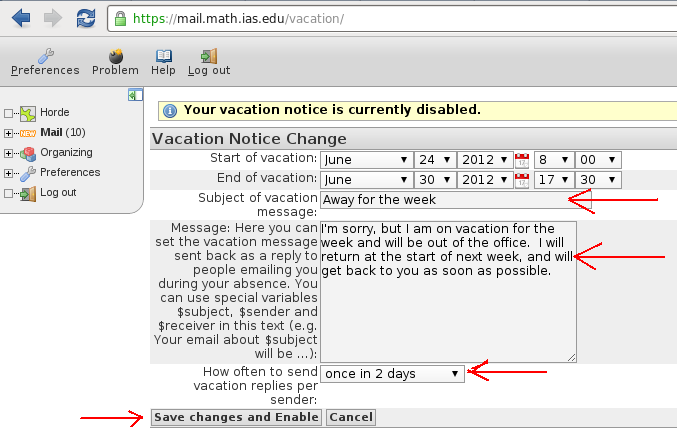 Finally, click on the "Save changes and Enable" button (see above).  If the update is successful, you should see two messages like the ones shown below, notifying you that your vacation message has been updated and is active.  You can turn off your message by clicking the "Disable and discard changes" buttom at the bottom of the screen, or can edit it and then leave the message enabled by clicking the "Save changes and leave enabled" button.
start a terminal and type vacation

once inside the vacation application, menu items may be selected via numbers, q will be used to quit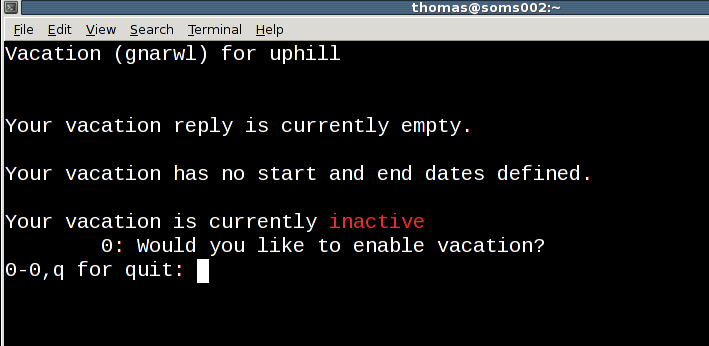 In the above, the vacation is inactive, to activate type 0 then enter your password.
To change your vacation message, follow the prompts and then select an editor to use.  The default is vim.  You can also set the start and end dates for your vacation or remove the start and end dates.   Start and end dates are not required for vacation (gnarwl) to work properly.
You may also use the old vacation program /usr/bin/vacation in a procmail configuration.  This is not recommended, however, since the original vacation program will automatically reply to lists, spam and other messages to which replies should not be sent.