Email filtering may be configured from our web email service, Horde.  The module that handles filtering is called ingo and is found at the following url https://mail.math.ias.edu/ingo
To set your ingo mail filter via Horde, either click on "Filters" from the left hand menu in Horde...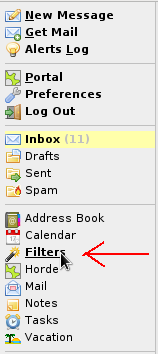 OR go to 
https://mail.math.ias.edu/ingo
 and then enter your login credentials.  Either way, you should then, click on the "New Rule" button as shown below.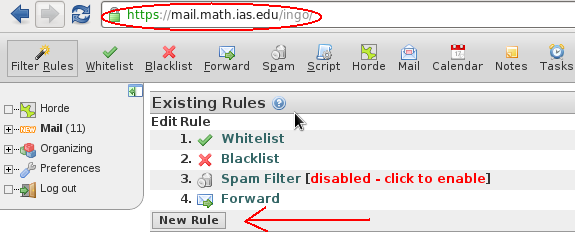 After enterning the "Filter Rule" screen, enter a name for your filter in the "Rule Name" field.  Directly below the name, select either the "All of the following" or "Any of the following" buttons to specify whether you wish your filter to match all of a set of criteria, or only one.
Now, click on the "Select a field" bar and choose one of the fields from the dropdown menu. Available fields for filtering include the "To" and "From" addresses, the size of the email, and the spam level or spam score (which are automatically determined).
After selecting a field, additional criteria will pop up, dependant upon exactly which option you selected.  Shown here, the filter has been set to look for a "Subject" which "Contains" the phrase "Advertisement".
***Note: You can also click on the small blue question mark icons (circled at right below) for built-in help.

You can also select and configure as many other filter conditions as you like.

Next, click on the bar beneath "Do this:" and choose an action for the filter to carry out upon finding a match.
Finally, you can specify how you want mail that matches the filter marked (seen, deleted, answered, etc.), and click "Save" to implement the rule.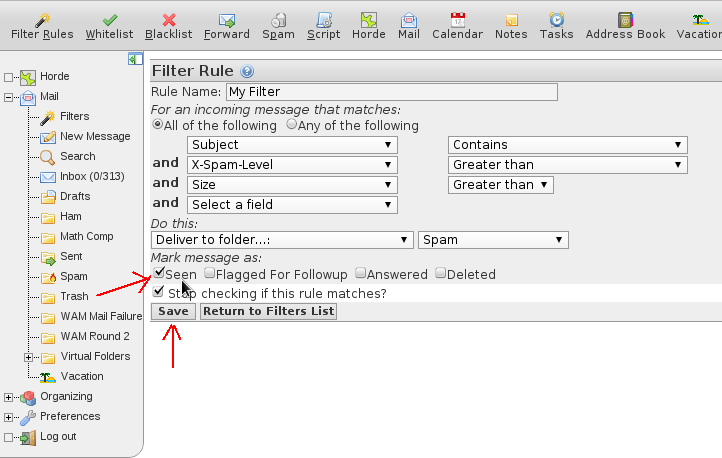 If the process is successful, you should be returned to the "Existing Rules" page, with the messages "Changes saved." and "Script successfully activated." at the top of the screen, and your filter appearing at the bottom of the rules list.  To delete your custom filter, click the trash can icon to its left.  To copy it, click on the paper icon to its left.  To make another rule, click on the "New Rule" button below the rules list and repeat these steps.  You can also activate or deactivate existing rules at any time by pressing the "X" or checkmark (respectively) on the right hand side of the screen to switch their status.
Note:
If you find that ingo is not filtering your email after configuration, you can verify that a new filter is being written by looking at the .dovecot-sieve file in your home directory (which should be a symbolic link to .sieve/ingo.sieve).